In seven of the 11 accidents discussed in this article [Lessons to prevent deaths during hot work in, around tanks - U.S Chemical Investigation Board] no gas testing was performed prior to or during the hot work activities. In these cases, an effective hazard evaluation and the proper use of gas monitoring equipment likely would have alerted workers to the unsafe work conditions.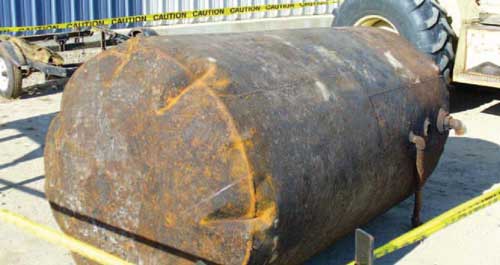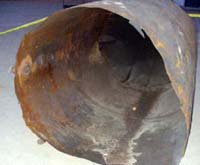 Exterior and interior views of the fuel tank involved in the hot work accident at A.V. Thomas Produce.
Note: Incident from 'Lessons to prevent death during hot work in, around tanks'

A.V. Thomas Produce
Atwater, Calif., March 31, 2009
2 workers severely burned
Two employees at A.V. Thomas Produce were using an oxygen-acetylene torch to loosen a fitting on an old fuel tank, which the company hoped to refurbish for field storage of diesel fuel. The workers, however, were unaware that the tank contained residual hydrocarbon liquid and vapor from an unknown prior use. The tank was not cleaned or purged before work began. Shortly after applying heat to the tank, an explosion occurred, blowing the end of the vessel off. Both employees were airlifted to a regional burn center, where they were treated for burns covering 30 to 50 percent of their bodies.
The facility had no formal hot work program, and no permit was issued for the hot work being performed. No combustible gas testing was performed prior to commencement of the hot work; the company did not have a policy that required it. In addition, many workers were mono-lingual Spanish speakers and had not been trained on safe hot work procedures or on the proper use of gas detectors in their native language.
Applicable key lessons: Analyze the hazards; monitor the atmosphere; test the area; use written permits; train thoroughly.
If you wish to be redirected to the webpage where this article appears click here. The content is displayed on our website as links often break.