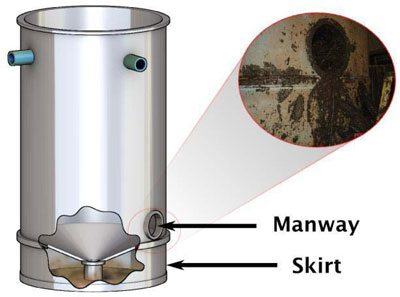 Potato-washing tank involved in the February 2009 accident at ConAgra Foods.
Note: Incident from 'Lessons to prevent death during hot work on, around tanks'
ConAgra Foods
Boardman, Ore., February 16, 2009
1 worker killed
A welding contractor was killed while repairing a 1.25-inch by 0.5-inch crack on the bottom of a water clarifier tank at a ConAgra Foods facility. The 23-foot-tall tank was used to separate dirt and debris from wastewater in a potato-washing process area. The tank was open at the top and had a metal skirt around its cone-shaped base. While the welder was working inside the tank, an explosion occurred; the internal tank structures collapsed, resulting in his death.
The CSB determined that approximately 14 inches of debris-laden water had leaked through the crack in the tank and accumulated in the hidden space under the tank skirting. Examination of a sample of the liquid indicated that bacterial decomposition of the organic matter likely produced flammable gas, which was then ignited by the welding activity.
In this case, ConAgra personnel had tested for combustible gas inside the tank prior to the hot work, but only from the entrance of the tank and no flammable gas was detected. Monitoring for combustible gases was not conducted in the immediate area of the crack just prior to the initiation of the welding or in the adjacent space where flammable gas was present. Personnel were inadequately trained on the use of the specific combustible gas detector that was used and no hot work permit had been issued prior to commencing the welding.
Applicable key lessons: Analyze the hazards; monitor the atmosphere; test the area; use written permits; train thoroughly.
If you wish to be redirected to the webpage where this article appears click here. The content is displayed on our website as links often break.