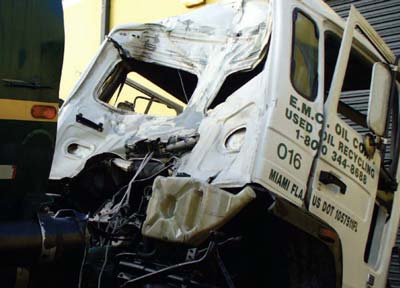 Damage to an oil tanker sustained from the December 2, 2008, explosion at EMC Used Oil Corporation.
Note: Incident from 'Lessons to prevent death during hot work in, around tanks'

EMC Used Oil Corporation
Miami, Fla., December 2, 2008
1 worker killed, 1 injured
An explosion killed a contract welder who was repairing a two-compartment oil tanker and injured another worker at the EMC Used Oil facility. The welder was in the process of welding transfer piping onto the tanker when residual hydrocarbon vapor from the 2,500-gallon rear compartment ignited, causing a powerful explosion.
The surviving worker stated that the contractors did not perform combustible gas monitoring and relied upon the host company to assure that tanks were safe for hot work. However, EMC indicated that it relied on contractors to monitor for gas; although the company owned a mul­tiple gas detector, it was used only for confined space entry. EMC did not have a formal hot work permitting or authorization system.
Applicable key lessons: Use alternatives; analyze the hazards; monitor the atmosphere; test the area; use written permits; supervise contractors.