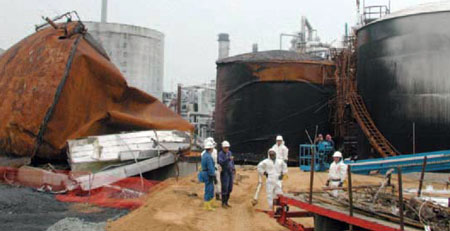 A view of the flammable storage tank involved in the accident at the Motiva Refinery.
Note: Incident from 'Lessons to prevent death during hot work in, around tanks'
Motiva Enterprises Refinery
Delaware City, Del., July 17, 2001
1 killed, 8 injured
A massive explosion destroyed a large storage tank containing a mixture of sulfuric acid and flammable hydrocarbons at the Motiva Enterprises Delaware City Refinery. One contract worker was killed, eight others were injured, and sulfuric acid from collapsed and damage tanks polluted the Delaware River. The explosion occurred during welding operations to repair a catwalk above the sulfuric acid tank, when flammable hydrocarbon vapor was ignited by welding sparks. This resulted in a powerful explosion inside the tank, which had holes in its roof and shell and a deficient inerting system.
On the day of the accident, combustible gas testing was performed only at the start of the hot work, but monitoring was not conducted for the duration of the hot work activities. Throughout the five hours between the last gas test and the explosion, the ambient temperature warmed by 14 degrees. This warming increased the evaporation of hydrocarbons inside the tank, and the resulting flammable vapor leaked out the tank's holes into the work area.
Motiva had a hot work program that included written permits, but the program was inadequate. Hot work was allowed near tanks that contained flammables including those that had known holes due to corrosion. Continuous atmospheric monitoring and the control of welding sparks were not required.
Applicable key lessons: Use alternatives; analyze the hazards; monitor the atmosphere; test the area; supervise contractors.
If you wish to be redirected to the webpage where this article appears click here. The content is displayed on our website as links often break.